thank you goldenmomentssg for the livestream hosting and eating experience on Facebook. So nice of them to send me these yummy durian desserts treats to my doorstep! indeed a golden moment with all of you on Facebook live. Nice experience unboxing, reviewing and eating with my friends and hosting livestream on Facebook. I am really excited cause it's my favourite durian! Thank you to my lovely friends who've come in to watch, can feel your presence online 🤗
Big love to you all and big love for durians and their desserts!
Golden QQ

Forever Love durian cake

Durian puff

Durian choux
______________________________
guess which is my favourite?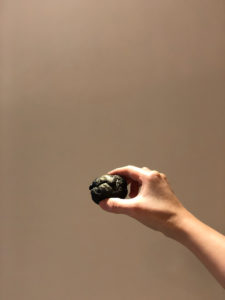 and my favourite is……
Ta-dah: Durian Puff!!!! It's fluffy and air-y on the outside, and generously filled with Mao Shang Wang puree in the inside. The golden matt black packaging just impresses me, I am pretty sure it will impress anyone that you'd like to gift it to. Hope you've managed to use the promo code (GMPAIGE10) to enjoy 10% discount on the above items I've introduced.
As an emcee doing livestream on Facebook and many other platforms, I realised it's actually not that straightforward. Press live button + talk to camera. THAT'S IT?! 🙅🏻‍♀️ no no there's actually a lot of things going on behind the scene and before that too. The preparation part, arranging for the item to come, setting up the computer, wifi, workspace, making sure I have everything ready within my reach. (Heng I've got Long arms it helps!) During the stream also another story. Haha but I am so grateful to the men who've helped me along the way. The husband who bought and set up those tech stuff – lan cable, mic, camera, wire link here and there omg.
Big thank you to
the always ever so helpful emcee Stan the man. He is very generous in sharing how to go about getting the stream running with different softwares ( effects logo sound etc.) There's really a lot going on while doing livestream hosting Facebook! Big thank you , you guys are as sweet as these desserts treats!